With our beautiful San Francisco weather and bay views, it's hard to resist going outside and moving your body. Why stay inside when you can go for a hike along the coast or bike across the Golden Gate Bridge?
As a Bay Area personal trainer, I am always searching for outdoor workout spots. Getting outside on sunny days is one of my favorite ways to connect with nature and explore the city. I've compiled the following list of my favorite local parks, trails, and outdoor spaces perfect for exercise.
Best Hiking Near San Francisco
Hiking is an excellent way to exercise for many reasons. Not only is hiking a great form of cardiovascular exercise, but it also helps keep your mind sharp. In particular, hiking exercises the retrosplenial cortex, which helps with navigation and spatial memory.
Exercise, in general, is a great way to relieve stress. But what sets hiking apart is that it's done outdoors. 
Being in nature is calming; studies have found that walking in nature decreases anxiety and rumination (when you think about the same negative thoughts or worries over and over). Additionally, nature walks also increase working memory performance. 
Beyond that, spending time outdoors increases our exposure to sunlight, enhancing vitamin D production. Vitamin D is a nutrient your body needs for building and maintaining healthy bones. It is also linked to boosting immune system health, increasing muscle function, and strengthening brain cell activity.
So what are some of the best ways you can get exercise outside? Keep reading to find out.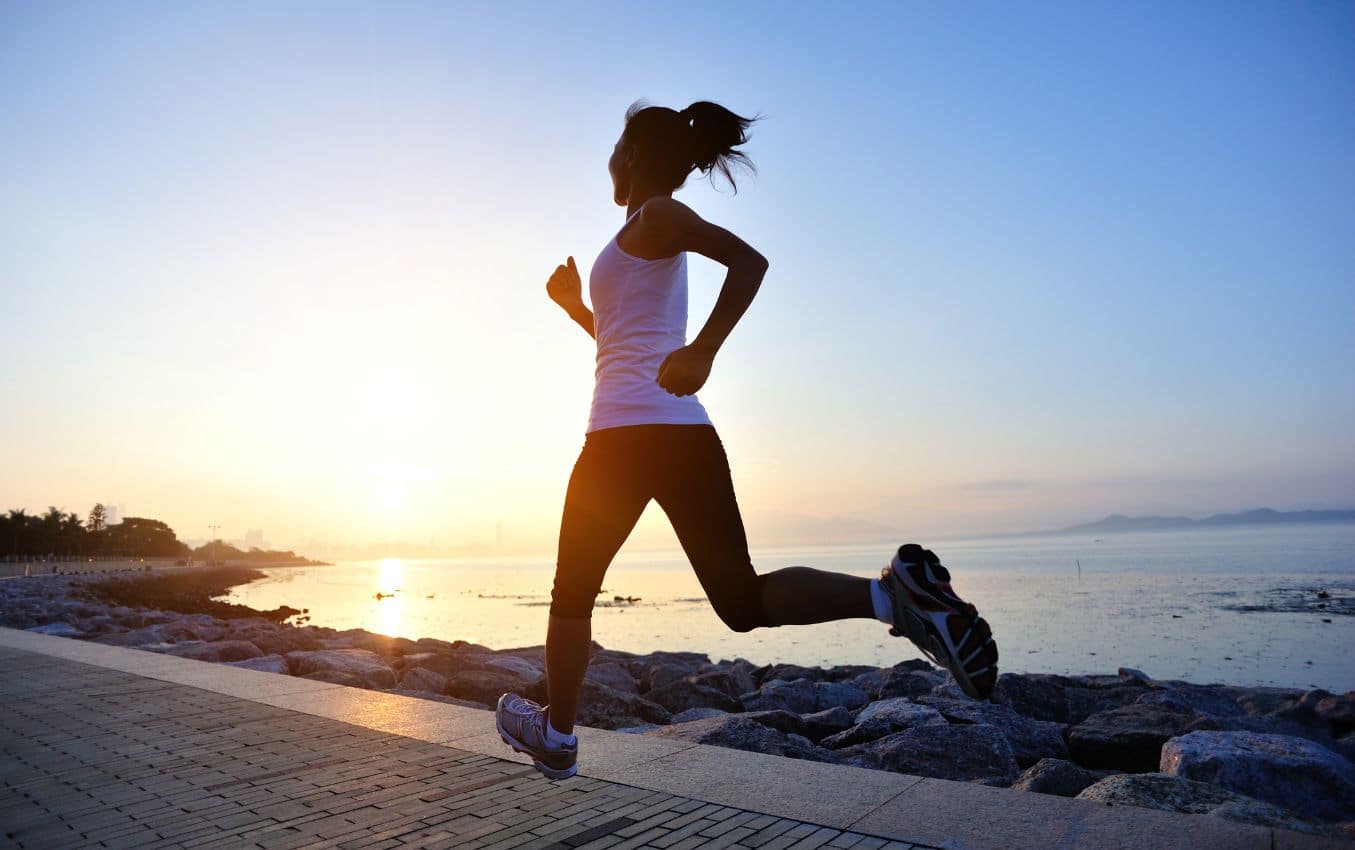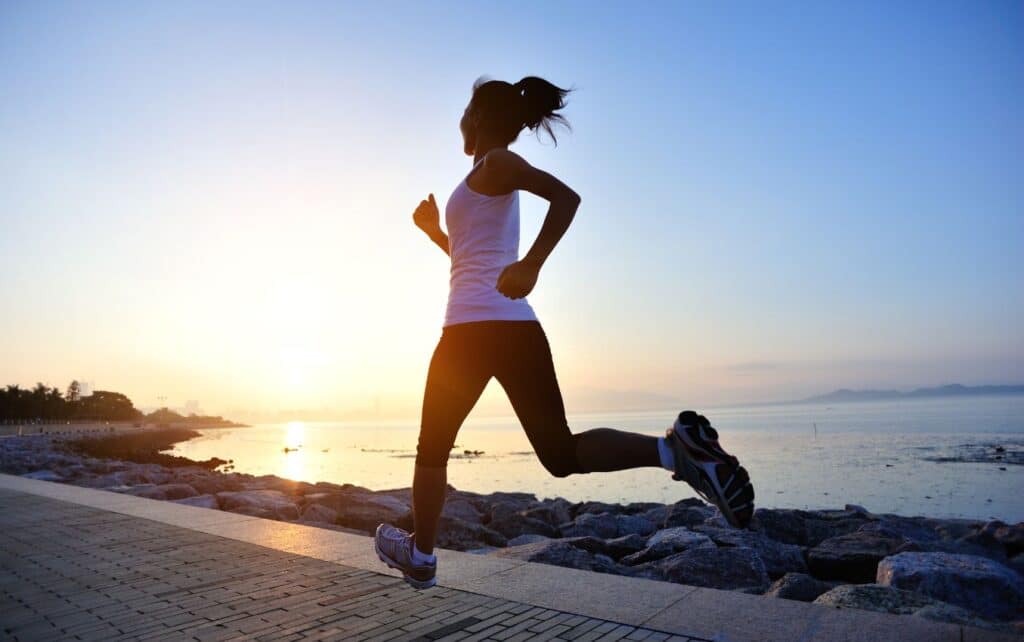 Find a new trail for hiking, running, or walking
San Francisco has many options for beautiful trails for hiking, running, or walking. If you haven't already, check out the AllTrails app. With the app, you can access trail maps, navigate trails, and connect with friends. You can also find the trails included in this list on AllTrails! 
I can't make a list of the best trails in San Francisco without mentioning the Golden Gate National Recreation Area. It is one of the largest urban parks in the world and has more than 15 million visitors a year. 
Golden Gate National Recreation Area
Take a look at these stunning trails below and tap to get more info on AllTrails!
A 3.4-mile loop that's perfect for walking with the dogs, riding your bike, or running your daily miles. You'll get stunning views of the Sutro Baths and the Golden Gate Bridge. The difficulty is moderate to challenging and includes stairs, so bring your hiking shoes.
An easy route for those looking for the best pictures of San Francisco; you have to walk the bridge span no matter if you're a tourist or born and raised. This trail is also wheelchair-accessible! However, no pups are allowed, so leave them at home for this one.
A 2.3-mile out-and-back trail along the coast. It features amazing views of the Bay and Golden Gate Bridge. This is considered moderately challenging and includes stairs. It does get crowded on weekends, so consider going on a weekday. 
This trail is hard to beat. You'll get a unique experience with a variety of terrain and views. The 4.4-mile point-to-point trail will take you along trails on the cliffs above the water, where you can watch crashing waves, sailboats, and the occasional surfers, all while having perfect views of the Golden Gate Bridge and the Marin Headlands across the bay.
This route is perfect for those looking for a challenge that rewards spectacular views of the Bay, wildflowers, and wildlife. Keep in mind that dogs are not allowed on this trail. 
A 2-mile nook of wilderness near the UCSF campus. You'll forget you're surrounded by the city when you're on this greenbelt. Before heading out, check current conditions because this trail can get muddy. 
This short 2.3-mile loop provides a great way to see the bluffs near the Presidio and offers views of the Golden Gate Bridge and Marin. It's also the perfect spot to watch the sunset over the Pacific Ocean and see the lights of the Golden Gate Bridge. You will need to keep the pups home for this one, as dogs are not allowed.
Consider taking a trip down The Embarcadero — a boulevard that runs along the San Francisco waterfront. You'll encounter great views and local attractions. Plus, this trail is also wheelchair accessible!
An easy 1.8-mile loop that is beautiful any time of the year. It is part of a 66-acre park with a history that spans back to the 1850s. 
Train on a public track
While the trails included above are great options for running, people looking to increase their speed may opt for a track workout. Whether you're a runner who is training for a marathon or running your first 5K, track workouts can help you get stronger and faster and improve your overall fitness and conditioning. 
If your local high school does not have a public track, consider these San Francisco public track options:

Go for a bike ride
Cycling is a great aerobic exercise that improves cardiovascular fitness, muscle strength, and joint mobility. Check out these scenic trails for bike riding all around San Francisco!
You won't want to skip on this iconic 1.7-mile point-to-point trail. For those wanting a longer bike ride, check out Alltrails for Golden Gate National Recreation Area trails that connect to the bridge. Also, wear layers because this trail gets windy!
This national park trail is an excellent option for a bike ride in San Francisco. History lovers may want to walk this trail instead to look at all the historic points it has to offer. 
This easy 2.1-mile out-and-back trail is a must-see. You'll see beautiful sweeping views of the city. It does get windy, so wear layers!
Lake Merced is a large freshwater lake surrounded by a 614-acre park. A 4.5-mile paved trail circles the lake's perimeter. Keep your eye out for migratory birds and other wildlife!
Pro tip: You will need to take a ferry to get to this park in the middle of San Francisco Bay, but the trip is worth it. You'll find beautiful views, points of interest, and great trails for biking, particularly the Perimeter Loop.
The Crosstown Trail is the work of local volunteers who love trails. The 17-mile trail runs through hidden trails, public parks, shopping corridors, and noteworthy spots around San Francisco. The trail connects to many local and regional trails.

Find a park with workout equipment
Going to a park with workout equipment is a great way to take your gym exercises outside. Here is a list of parks with a variety of workout equipment, including tennis courts, a climbing wall, and an outdoor gym.
San Francisco's second-largest park and offers a range of recreational activities. The park also provides views of downtown San Francisco, the East Bay, and San Bruno Mountain. It's one of my favorite places to work out on the go! It features:
Natural area – 11 miles of trails
This park offers a wide array of activities, including a recreation center with the city's first public climbing wall. The park also offers:
The oldest park in San Francisco and offers winding trails and spectacular views from its slopes. You'll also find:
One of the most popular parks in the city. It has:
Alta Plaza Park features one of the best views of San Francisco as well as:
A good option if you're looking to use workout equipment outdoors.
This trail is located near Golden Gate Park's polo fields. The trail features exercise equipment paired with explanatory signs in a beautiful outdoor setting.
Work With the Best Personal Trainer in San Francisco
San Francisco's mild climate boasts some of the best hiking trails and outdoor fitness activities. As a San Francisco personal trainer, I'm always on the hunt for new ways of staying fit outdoors.
If you don't know where to start or feel like you've hit a fitness plateau, personal training is an excellent option to explore. AP Wellness Training & Consulting offers science-based personal training to help you meet your fitness goals. So, schedule a free consultation today to discuss San Francisco personal training or online services.